What Makes a Great Serious Gaming App?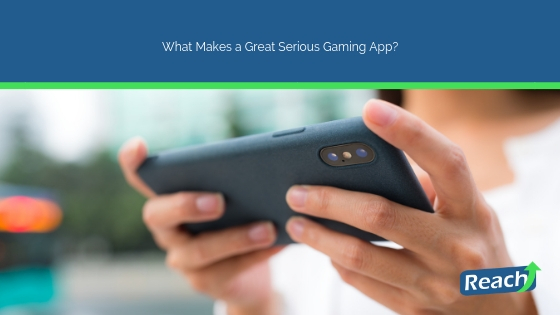 Serious gaming can be used in a wide range of industries and scenarios to enhance educational outcomes. From elementary school classrooms to emergency response training, heavy equipment operation to learning a second language, serious games help people understand and retain information more effectively.
And what's even more impressive than the diversified ways game-based learning can be used, is the fact that it has been proven to be highly beneficial.
In fact, studies have shown that students score 14 percent higher in skills-based knowledge assessments after a gamified e-learning experience.
In another study, 90 percent of employees reported being more productive when exposed to game-based learning.
These statistics become even more compelling when you consider that the game-based learning industry will be valued at $17 billion by the year 2023.
The projected growth of the serious gaming market just goes to show that businesses and organizations are experiencing the advantages of learning through games, and that the future of this modern approach to education is brighter than ever.
But in order to fully capitalize on the benefits of game-based learning, you need to be sure that you are investing in a well-built and thoughtfully-executed serious gaming app.
This is extremely important, since not all serious gaming apps are created equally.
So, how can you be sure that you are investing in a premium serious gaming app that will exceed your expectations?
In this blog, we'll be covering a few of the most crucial elements you should look for when making your decision.
HERE ARE THREE KEY FEATURES ALL GREAT SERIOUS GAMING APPS HAVE IN COMMON:
POWERFUL GAME MECHANICS
In order for your mobile app to engage your learners and produce the educational outcomes you are looking to achieve, it has to provide a seamless, interactive learning experience. This is achieved through the use of gamification.
What is gamification?
Essentially, it is the process of adding games or game-like elements to something.
In this case, it would be your serious gaming app.
Some of the game mechanics that can be implemented into your app include:
Reward systems
An overarching game theme or story
Team-based objectives
A final challenge (i.e. the "final boss")
Progress bars
Time pressure
Collectable badges
And more.
When strategically implemented, these features motivate your users to engage in game-based learning, creating a mobile learning experience that is constantly evolving and continuously engaging.
In fact, when Ford Motor Company added gamification elements to their online learning portal, employee use increased by 417 percent. And no, that's not a typo!
At ARC Reach, we understand the importance of games in learning, and take a methodical, client-focused approach to incorporating gamification features in each project we take on. Since each business or organization has its own unique educational objectives, we tailor our gamification process to provide the benefits of game-based learning that apply most to your needs.
DYNAMIC AND IMMERSIVE LEARNING STRATEGIES
In order to create an educational experience that completely revolutionizes the way your users retain and absorb information, you need to use cutting-edge technology and learning exercises that provide participants with the opportunity to learn through doing.
At ARC Reach, we incorporate many of these opportunities into our mobile app platform, including: simulation learning exercises, problem-based learning (PBL) exercises, and microlearning.
These types of activities go beyond traditional teacher-centred educational approaches that focus heavily on memorization, offering learners the chance to gain hands-on, practical knowledge and skills.
Why is the incorporation of these dynamic and immersive learning exercises so important?
Well, to start, retention rates for training programs that use these types of experiential learning exercises are as high as 80 percent to 90 percent.
Additionally, another study has shown a 76 percent increase in learning outcomes when using a gamified laboratory simulation compared to traditional teaching, and a 101 percent increase when both methods are used in combination.
When you combine these compelling statistics with the power of a user-friendly, accessible, and convenient mobile app, the advantages of learning through games are compounded, setting your business or organization up for greater success.
EDUCATIONAL OUTCOMES THAT CAN'T BE ACHIEVED VIA OTHER LEARNING PLATFORMS
Let's be frank – the reason businesses and organizations invest in a mobile serious gaming platform is often because the other methods they have tried haven't worked.
Traditional learning management systems (LMS) often do not provide a user-friendly experience for administrators, and the platforms are typically cumbersome to navigate through.
Additionally, the reporting offered by LMS's is limited, and they require users to sit at a desktop computer for extended periods of time.
With a mobile learning solution, however, your users get to experience the benefits of game-based learning from wherever they are, by simply logging in on their cell phone.
They also get to enjoy an interface that is intentionally designed to provide an effortless user experience. Navigation throughout the learning platform is simplified, exercises and activities are laid out in a clear, predetermined pathway, and administrators can provide instant feedback via the management dashboard.
Overall, it's a much more convenient, accessible, and flexible approach to learning that users appreciate and respond well to.
An advantage every business or organization can reap the rewards of.