Problem-Based Learning in Healthcare: The Past, Present, and Future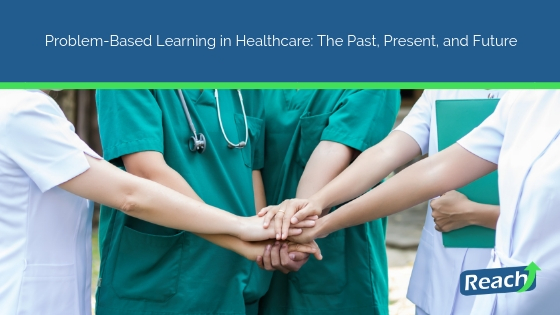 Problem-based learning (PBL) is an educational approach that focuses on exposing students to complex, real-world situations, and then asks them to find a solution. What makes this approach unique is that there is no single right answer. Instead, students are expected to use their critical thinking skills and creativity in order to reach a desired outcome.
This method of learning has been proven to yield considerable results. In fact, a recent study showed that PBL increases long-term retention of content, helps students perform better than traditional learners in high-stakes tests, improves problem-solving and collaboration skills, and improves students' attitudes towards learning.
In this article, we'll be taking a deeper look into the history of problem-based learning in healthcare, and sharing exciting details about how the ARC Reach app is exposing more students to this valuable method of learning.
To start, let's go back to the beginning.
THE PAST
Problem-based learning was first introduced in 1969, when two professors at the medical school program at McMaster University in Hamilton, Ontario developed a new curriculum. They had noticed that medical students tended to comprehend the information they were taught, but experienced trouble when applying it in a clinical setting. Their hope was that when exposed to PBL, students would use critical thinking and collaboration to gain new knowledge and apply it to scenarios they encounter on the job.
Since then, PBL has been used in a wide range of educational curriculums, in industries like law, business, and engineering.
THE PRESENT
Today, more than 80 percent of medical schools in the U.S. now use some form of PBL. And the approach is now a core part of educational curriculums across all levels, starting as early as elementary school.
In fact, one study recently showed that 77 percent of higher-education instructors use some form of PBL when teaching their courses.
And it's paying off!
Last year, education researchers at University of Michigan decided to study the effects of PBL on social studies class outcomes and some aspects of literacy achievement for second-grade students – and the findings were impressive.
In the PBL group, test scores were 63 percent higher for social studies and informational reading improved by 23 percent, when compared to the control group.
With more and more data being gathered about the advantages of problem-based learning, the future of PBL remains bright, not just for the healthcare industry, but for learning situations of all types.
THE FUTURE
As mobile learning has become increasingly popular and accessible to businesses and educational institutions, exposure to problem-based learning has also grown. Mobile training apps now make it possible for educators and business owners to incorporate PBL into a convenient, effective, and engaging mLearning platform.
At Reach, we include both problem-based learning, particularly simulation learning, in our app, giving users a more dynamic and immersive educational experience.
With Reach, students can simply log into their mobile learning app from wherever they are, and participate in PBL exercises that allow them to practice their relevant skills and motivate them to come up with innovative solutions to the problem they are posed with.
In fact, one of our healthcare clients won a major international award after implementing a serious nursing game with PBL, SOS, in their long-term care program.
Moving forward, it is our goal to share the advantages of problem-based learning with more of our clients, and make PBL more accessible for businesses and educational institutions via the power of mLearning.