5 Game-Based Learning Blogs All Business Owners Should Follow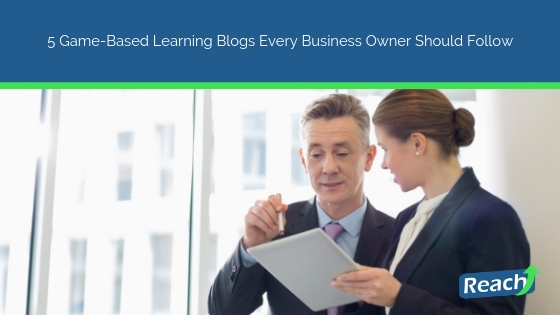 Businesses and organizations are investing more and more in gamification as a means of enhancing training and education efforts. 
In fact, gamification revenues have had a compound annual global growth rate of 37.1 percent over the last five years.
This is likely due to the fact that business leaders, educators, and other professionals are witnessing first-hand the value that game-based learning provides.
By making learning more engaging and immersive, gamification has changed the way people retain and understand information.
Here are some statistics that demonstrate the advantages gamification has to offer:
With data-driven results like the ones above, the value of games as teaching tools becomes irrefutable.
But how can business owners and organizational leaders remain in-the-know about game-based learning trends and developments?
In order to implement gamification in the workplace, or any environment where learning is required, decision makers must be familiar with what's out there, and be able to determine which strategy is best for their unique situation.
Thus, we've compiled some of our most recommended resources.
HERE ARE 5 GAME-BASED LEARNING BLOGS ALL BUSINESS OWNERS SHOULD FOLLOW:
Gamified UK is a blog owned and operated by Andrzej Marczewski, a web developer and passionate gamification consultant based out of Surrey, England.
Marczewski works with clients to discover gamification and game-based learning solutions for their engagement and user experience problems. Regarded as an expert in his field, he has spoken at major industry events, including: Gamification World Congress (2013, 2014, 2015, 2016), SocialNow, the Ark Conference and more.
On his blog, you'll find information about gaming mechanics, learning solutions for employees, and much more.
This was an easy choice for us when considering the best gamification blogs to include on our list.
Edutopia is a trusted resource in the education industry, publishing content that celebrates what's working in the learning and development world. Their vision is to create a society where students and parents, teachers and administrators, policy makers and the people they serve are all empowered with a shared vision to change education for the better.
On their blog, you'll find numerous posts about game-based learning and the outcomes this method has generated for school-age children.
Many of the findings can be applied to corporate settings and other learning environments as well, which is why we highly recommend it. It's a game-based learning blog that looks meticulously at how the human mind develops and the results that can be seen from using games as teaching tools.
Classcraft is an engagement management system that aims to improve academic performance by making classrooms more fun and interactive.
The classcraft blog is filled with tips, ideas, and thoughts on making educational environments more effective— including posts that highlight the benefits of gamification and serious gaming.
One of our favorite posts focuses on how games can be used to encourage children to read beyond their grade level.
We highly advise bookmarking this blog if you're interested in the power of games as teaching tools.
      4. SWEETRUSH
Sweetrush began as a marketing consulting and web development firm, but eventually evolved into a design and development agency that focuses on learning and communications solutions.
They update their blog regularly with information about learning and development trends, eLearning, and serious gaming.
With a proven track record for creating mobile learning solutions that work, SweetRush is undoubtedly a trustworthy resource for all things game-based learning, making them another easy pick for this list.
MLevel is a game-based and microlearning platform, designed and developed by a team of gamification experts in Atlanta, Georgia.
The company's blog contains a wealth of knowledge, covering topics like adaptive learning, gamification, and microlearning on a regular basis.
MLevel's entire goal is to increase knowledge and skills through an engaging learning experience that promotes rapid time to performance.
And since it's a goal that so many businesses want to implement for themselves, we had to include them on our list of best gamification blogs.
Checking these online publications each week is an excellent way to stay abreast of any changes, updates, or developments that are taking place in the game-based learning niche.
The more familiar you are with the foundational concepts of gamification and serious gaming, the more equipped you will be to make decisions surrounding these technologies.
While giving these blogs a follow, don't forget to also browse our posts on the ARC Business Solutions website. We are always posting new content and love hearing feedback from our readers!
Interested in what you've watched? Contact us to book a demo. We'd be happy to discuss how we can help you achieve the results you're looking for!