3 Ways the ARC Reach App Can Improve Your Employee Onboarding Process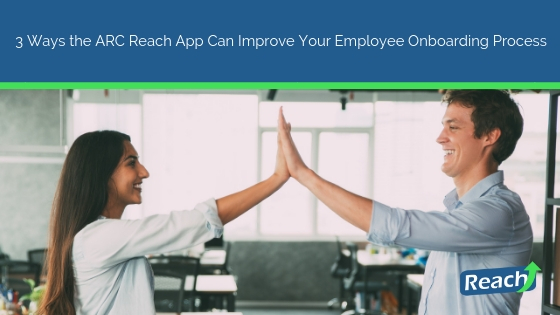 Every business requires an effective onboarding strategy to ensure that their employees are familiar with the day-to-day operations of the company and how they can best contribute to productivity goals.
Without a well-established employee onboarding plan, business owners often find themselves struggling to meet their operational requirements later on down the road. This is because employees who are ill-prepared and unfamiliar with specific tasks that are expected of them often wing it, guessing at best practices and completing their work in ways that may not be according to process.
In order to combat this, businesses and organizations need an employee training strategy that is engaging and convenient for their new hires – benefits that most traditional onboarding processes don't offer.
Thankfully, however, the advancement of technology has opened up a whole new world of training strategies that businesses and organizations can avail of, and one of the most beneficial options is the use of mobile apps.
The introduction of mLearning has transformed the way many companies conduct onboarding for new employees, allowing them to offer their mandatory training in the most convenient and accessible way possible.
Now, new hires can simply log into their mobile app, enjoy a gamified learning experience, and still retain the vital information they need to perform well in their role.
But the benefits of mLearning go beyond just accessibility and convenience. So, in this blog, we'll be diving into three of the lesser-known advantages of using a mobile app to execute your employee onboarding plan.
HERE ARE THREE WAYS THE ARC REACH APP CAN IMPROVE YOUR EMPLOYEE ONBOARDING PROCESS:
CONSOLIDATING ALL OF YOUR TRAINING MATERIALS INTO ONE CONVENIENT PLATFORM
Nothing is worse than having to track down your employee training manual while your new hire sits at their desk with nothing to do.
With a mobile app, you never have to worry about making your training materials available to new employees again. Simply set them up with a username and password, and voila! They now have access to all of your training manuals and important documents.
This is especially beneficial for companies that often hire multiple employees at once, since you never have to worry about who has the employee training binder or who is still waiting to complete certain aspects of their training.
Additionally, employers can upload photos, videos, PDFs, and links to beneficial resources, all within the app. This gives new employees a more comprehensive database of materials they can learn from, all at their fingertips. A convenience they are sure to appreciate!
FOSTERING A SENSE OF COMMUNITY AMONGST TEAM MEMBERS
When employees are all trained the same way, and every team member is exposed to the same process, you create a more unified company dynamic. It also allows employees to refer to one another when a question or unexpected circumstance arises, knowing that everyone has gone through the same onboarding experience.
Additionally, as company leaders provide feedback to employees via the mobile app, it gives employees a stronger sense of connection to your company's mission and vision, increasing their commitment to organizational goals.
This ability to provide immediate feedback is one of the unique benefits of mLearning, and it's one of the most advantageous when it comes to mandatory training and onboarding processes.
Within the Reach app, business owners and managers can interact directly with new hires, encouraging them along their learning path and strengthening the working relationship.
SHORTENING EMPLOYEE ONBOARDING TIMES
Unlike traditional employee onboarding plans, mLearning allows new employees to log in and engage in training whenever it is most convenient for them. Whether it's during their lunch break, while they take the bus home from work, or from the comfort of their home.
When you combine this unprecedented flexibility with the fact that mobile learners complete their training courses an average of 45 percent faster than those who use traditional training methods, it becomes obvious that mLearning can save your business a significant amount of time and money.
To provide a clearer picture: the average time to complete a course is 17 minutes on desktop versus 9.5 minutes on mobile.
For businesses that are fortunate enough to be experiencing growth, saving time during the onboarding process is incredibly valuable, and makes it possible for work to be completed sooner.