3 Incredible Results You Can Achieve By Harnessing the Power of Team-Based Learning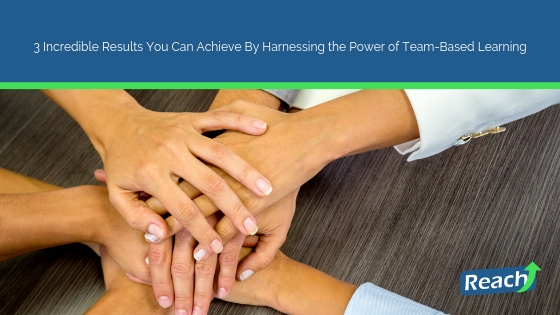 Team-based learning is an educational approach that is centred around giving learners control and responsibility over their comprehension. In order to achieve this desired outcome, learners work together in a collaborative environment, where they are all presented the same problem and information.
Once the conditions of the learning exercise are disclosed, it is entirely up to the team to collectively find a resolution.
This method of learning is highly beneficial since it fosters engagement and motivates participants to think outside-the-box.
In fact, one study has shown that 61 percent of cooperative-learning classes achieve significantly higher test scores than traditional classes. And it has also been shown that only a paltry 10 percent of overall employee knowledge comes from formal training, with the remaining 90 percent coming from interactions with others and on-the-job experiences.
With statistics like these shining an indisputable light on the benefits of team-based learning, it becomes obvious that businesses and educational institutions should be availing of this method (if they aren't already).
Which is why we decided that incorporating team-based training opportunities within our software was not only beneficial, but necessary.
When our clients invest in a mobile app for learning, we want them to have access to the most effective and cutting-edge training techniques. When the advantages of mobile learning are combined with tried, tested, and true teaching methods, students are better able to achieve their full potential.
HERE ARE THE TOP THREE RESULTS YOU CAN EXPECT FROM INVESTING IN TEAM-BASED LEARNING:
IMPROVED ORAL COMMUNICATION SKILLS
In today's world, many people feel more comfortable sending a text message or an email than speaking their minds in a face-to-face interaction. However, in order to achieve ideal results either as a business or as an educational institution, your learners need to engage in conversations.
Team-based training is the perfect way to open up the doors of communication and help your learners become a part of important dialogue.
In fact, in one study, 65.3 percent of learners said that team-based learning exercises enhanced their discussion skills.
Why is this important?
Well, to start, 86 percent of employees blame lack of good communication and collaboration for workplace failures.
Additionally, it has been shown that effective communication can boost productivity by as much as 25 percent when employees feel engaged with their work and connected with their co-workers.
By investing in a mobile app for learning that offers team-based training exercises, you can ensure that your employees (or students) are developing this essential skill and using it in real-life interactions where effective communication is needed.
STRONGER SELF-MANAGEMENT SKILLS
This is one of the benefits of team-based learning that employers (and teachers) appreciate most.
The ability to trust your employees or students to take responsibility for their own educational development is crucial to overall productivity, since leaders cannot always be present to ensure their learners are completing their lessons or performing at their best.
In fact, studies show that self-managed work teams are 30 to 50 percent more productive than those with a traditional hierarchy.
Many businesses have already reaped the rewards of encouraging self-management. Around 80 percent of companies in the Fortune 1000 use self-managed teams.
So, it's clear that self-management skills are not only beneficial for the employee, but for the business as well.
Thus, implementing an mLearning platform that uses team-based learning exercises to instill responsibility, accountability, and pride in your employees will not only strengthen your workplace culture, but will likely increase the profitability of your company as well.
FASTER RECOVERY FROM SETBACKS
When a problem arises in the workplace, business owners want a solution fast. The more time that is spent in meetings, crafting emails, or tracking down information, the more time it takes for a resolution to be found.
One of the advantages of mobile learning is that communication is more readily available, especially since 79 percent of smartphone users aged 18-44 have their phone on or near them for all but two hours of their waking day.
By combining the accessibility and convenience of a mobile app with the long-lasting benefits of team-based learning, you can reduce the amount of time it takes to remedy mistakes and come up with solutions to issues that will inevitably arise.
This is particularly important because managers now spend about 20 percent of their time on conflict resolution – a chunk of time that they could be using to complete other practical tasks that are necessary from an operational standpoint.
Thankfully, there is a ton of evidence to support the fact that team-based training can reduce the amount of time businesses spend addressing setbacks.
In fact, in a study of young learners conducted by London University in the U.K., those who learned in groups were better able to compromise and resolve petty arguments, as well as make rapid progress in their performance – an outcome that almost every business can benefit from.
In conclusion, the ARC Reach app can be used to facilitate team-based training opportunities, by allowing employers and instructors to:
Designate users to specific teams within the app
Assign projects or exercises to each team
Communicate with learners via Reach within discussion forums
Conveniently check on the work that teams are collaborating on simply by accessing the management dashboard
Interested in learning more about Reach? Book a demo today.